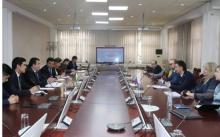 Russia is one of the main strategic partners of the Republic of Tajikistan, and in 2020 the trade turnover between the two countries amounted to 973.6 million US dollars. This point was mentioned during the meeting of the Deputy Minister of Economic Development and Trade Abdurahmon Abdurahmonzoda with the business delegation of St. Petersburg of Russia headed by Mark Ruslan in Dushanbe.
     Abdurahmon Abdurahmonzoda noted that due to the wise and far-sighted policy of the leaders of the two countries - the Founder of Peace and National Unity - Leader of the Nation, President Emomali Rahmon and President of the Russian Federation Vladimir Putin relations between the two countries have reached a qualitatively new level.
     At the meeting the two sides discussed priority projects for the development of trade and economic cooperation, the establishment of joint ventures in the free economic zones of Tajikistan, the signing of a Memorandum of Understanding between free economic zones and companies of St. Petersburg and expressed readiness to expand mutually beneficial cooperation.
English
Scan QR: